Safety First-Please heed to these safety guidelines. Thanks!
Chainsaw policy
No chainsaws or other mechanical saws are permitted.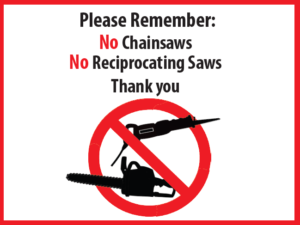 Only hand saws are able to be used. We can cut the tree for you or you can borrow one of our bow saws, or bring your own.
Vehicle/Tree Securing P

olicy

We provide string and our sawyers can assist in lifting your tree on top of your vehicle if you need it.

We have sawyers that can give you pointers for attaching your tree to your car but please, check and double check for yourself to make sure that your tree is secure before you drive out of the parking lot. No one likes a tree in flight on the interstate! Once you leave our farm, keeping your tree attached to your vehicle is your responsibility. So, please make sure you are confident it is secure before you leave.
Pets
Dogs on leashes are welcome at our farm. Please be aware that other families bring their dogs too, if your dog does not play nice with other pets please leave him or her at home. Thanks.